As I mentioned in yesterdays post, #Tuesdayten is going to be a weekly feature on the blog. This is a blog link party hosted by bloggers The Golden spoons and The Lieber Family.

Each week a topic is chosen and the task is to write about that topic. Today's topic is... Ten foods you could live off if nutrition and calories didn't matter.
Oh how this is a fun topic to write about. No doubt I am going to make myself very hungry, by the end of this post, just thinking about it!
1. Pasta - I could literally eat pasta everyday. Spaghetti Bolognese, Lasagna, Spaghetti and Meatballs, Fettucine Alfredo and Carbonara the list goes on. This for me is major comfort. I fell in love with Italian and pasta when we went to Tuscany for our honeymoon - although I am yet to find pasta as good as the Italians make it over here!
2. Garlic bread or anything with garlic in it - Random I know but I. JUST. LOVE. GARLIC. I put garlic in everything and whenever I order steak I order garlic butter to go with it. Nothing beats buttery, garlicky, oozy garlic bread. Poor Hubby and my garlic breath.
3. Ribs - Are my current obsession - I go through phases of craving certain foods, even when I am not pregnant. You just can't beat sticky, saucy, ribs that are falling off the bone.
4. Peanut Butter - As you may have noticed, the past couple of recipes I have posted have involved peanut butter - why? because I love the stuff. I could eat it straight from the jar by the spoonful it's just that good!
5. Donuts - The next few things were pregnancy cravings - big time! A lot of my friends can vouch for the fact that I ate donuts every day at one point- so bad! I just love them though, what I wouldn't give for a chocolate glazed donut right now.
6. Sausage rolls - Oh yea, that classic kids party food. I get so excited whenever I see these and I can't help but eat too many of them. Yet another, bad, pregnancy craving! I'm surprised Ella wasn't made out of donuts or sausage rolls really.
7. Cinnamon rolls - What's not to love? Bread, Cinnamon sugar and a white icing glaze. Even better served warm.
8. Chicken Parmigiana - Another Italian dish I love. Breaded chicken, tomato and parmesan cheese - what more could you want? I normally add a cheese sauce on top too just for added liquid cheesy goodness.
9. Pork pies - A British favourite, I discovered this deliciousness on a holiday to the UK to meet my Husband's family - who introduced me to it. Unfortunately, they are so hard to come by over here so I have to make sure I get my fix whenever we go back.
10. Devonshire Cream Tea - Another traditional British favourite, it has a different name depending on which part if the country you are in and there is debate over how you eat it. Basically, it's nice big, fluffy scones with clotted cream, jam and accompanied by a pot of Tea. Not that I drink tea, but you can't beat a big scone smothered in copious amounts of clotted cream and jam. Unfortunately, once again it's practically impossible to find a traditional cream tea in New Zealand - much to my dismay!
See, I told you - I knew my mouth would be watering by the end of this!

What are some foods you love and just couldn't live without?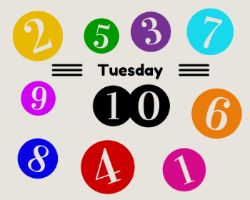 This post is part of #Tuesdayten a blog link-up party
hosted by
The Golden Spoons
and
The Lieber Family
.